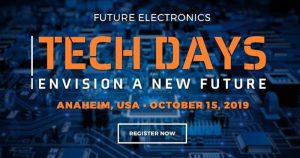 Location: DoubleTree
Suites by Hilton Anaheim Resort – Convention Center, 2085 S. Harbor Blvd.
Anaheim, CA 92802
Event Date: Tuesday
October 15, 2019
RSVP: Register by Tuesday October 8, 2019
Join Zettler Group for this Free Event
Future Electronics invites you to attend the most advanced hands-on technical learning event in the region. This is a unique opportunity to gain exposure to new technology as you interact with over 50 of the industry's top suppliers at the Technology Expo event. You can also choose to spend time in the classroom with deep-dive technical training taught by key technologists. Choose your own classes and customize your learning to your training needs.
Event Overview
Future Electronics is bringing together the largest group of leading technologists, from the industry's top suppliers, to help you connect and learn about the latest technologies, tools, and services. The Technology Expo event will be open all day starting at 8:30am. We are offering 24 classes throughout the day ranging from the latest in edge computing, wireless, sensing, security, artificial intelligence, high performance analog, power, signal chain, connectors, IoT, and much more. We will be providing breakfast, lunch, and snacks throughout the day
Zettler Group
The Zettler Group will be exhibiting our latest product and service offerings for relays, magnetics, and customized LCD solutions. Meet our technical sales team and learn more about our products and latest offerings.