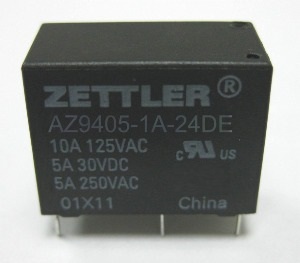 With even more stringent energy savings standards in building and lighting controls, reduction of power consumption continues to be a major industry trend.
The design of an industry-leading manufacturer of emergency lighting solutions for commercial buildings required seamless switching between line and battery back-up power at times of power loss, while also demanding very ambitious low-power consumption. American Zettler met this challenge by developing a super-sensitive coil version of its
AZ9405
relay.
The relay, originally developed as a general purpose and appliance relay, features a special coil that consumes only 150mW of coil power, less than 40% the typical 400mW used in relays of the same form factor.
Given that relays can be one of the highest power-usage components in a system, the
AZ9405
is an excellent choice for low to medium power control boards with multiple relays. UL recognized switch ratings are 5A@277VAC / 30VDC for the NO contact and 3A@277VAC / 30VDC for the NC contact. These ratings were also tested at elevated temperatures and cycles: 85 C for 100K cycles.
This is the second relay from American Zettler specifically developed to target power savings as a major design goal, as the company focuses on providing intelligent component solutions that help drive energy efficiencies in lighting, energy controls and similar building automation applications.
American Zettler, Inc., a Zettler Group company, produces over fifty different types of relays to meet the many requirements of commercial and industrial applications. Because of their high reliability, American Zettler relays are used in a wide range of demanding applications including telecommunication and security systems, solar inverters and electric vehicle charging equipment, home appliances, lighting and energy management controls, HVAC/R, industrial controls and many other types of electric and electronic equipment.
www.azettler.com