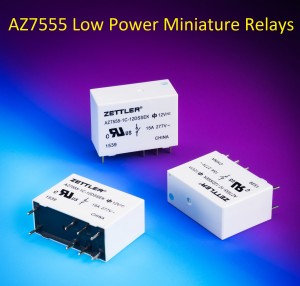 December 2, 2015 –
A new line of
15 to 20 Amp relays
for appliance, energy management, motor control, and lighting applications is being introduced by American Zettler, the North American relay division of Zettler Group of Aliso Viejo, CA.
AZ7555 Power Relays
consume one-sixth the energy of conventional 5 mm pin general purpose relays and cost 20 to 30% less than equivalent latching relays with superior functionality because they guarantee fail-on/off without additional circuitry. Featuring standard, sensitive, and super sensitive versions, the power consumption at pickup (typical) is 67.5 mW for the super sensitive version.
Available with SPST (1 Form A) and SPDT (1 Form C) contacts,
AZ7555 Power Relays
have silver tin oxide contacts and are suitable for applications from 3 to 110 VDC with continuous power dissipation (max.) of 1.2 W @ 68°F, 0.9 W, and 0.2 W respectively. Dielectric strength is 5000 Vrms between coil and contact, plus the relays have 10 kV surge resistance. Class F insulation and epoxy sealing are offered.
For more information contact:
Patrick Millett
National Sales Manager
American Zettler, Inc.
75 Columbia
Aliso Viejo, CA 92656
T: 949-831-5000
F: 949-831-8642
Sales@azettler.com
About American Zettler, Inc.
American Zettler, Inc
., a Zettler Group company, produces over fifty different types of relays to meet the many requirements of commercial and industrial applications. Because of their high reliability,
American Zettler relays
are used in a wide range of demanding applications including telecommunication and security systems, solar inverters and electric vehicle charging equipment, home appliances, lighting and energy management controls, HVAC/R, industrial controls and many other types of electric and electronic equipment. Additionally, American Zettler works closely with a computerized distribution network with stocking facilities in virtually every major industrial area in the world.