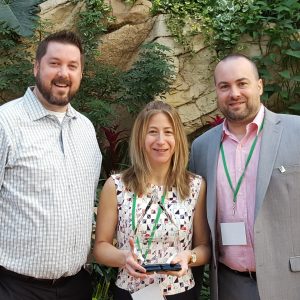 Future Electronics was presented with the ZETTLER Group's 2016 Distributor of the Year Award at the annual EDS Summit in Las Vegas.
The ZETTLER Group Distributor of the Year award recognizes our valued partners who have demonstrated significant sales volume, outstanding professionalism and operational excellence. We are proud to recognize Future Electronics' significant contribution to our distribution results in 2016. This award represents the commitment demonstrated by the Future Electronics team in North America and their contributions made to substantial revenue growth for both our companies. This is also the 2nd year in a row that Future has won this award.
We would specifically like to thank the Electromechanical group in Montreal and their exceptional hard work and commitment to the American ZETTLER line in North America. Due to their valiant efforts we have consistently achieved growth year over year. American ZETTLER's North America relays sales to Future Electronics in 2016 grew over 1 million USD vs. sales in 2015. It was also Future Electronics' 4th year in a row of year over year sales growth.
Patrick Millett, VP of Global Distribution at ZETTLER Group, presented the award to Heather Goldsmith, Director of Electromechanical at Future, and Marc Garceau, Product Marketing Manager of Electromechanical at Future.
We value our partnership with Future Electronics and look forward to continuing the growth of our North America and Global relationships.
About ZETTLER Group
ZETTLER GROUP is a globally operating and vertically integrated enterprise, engaged in the design, manufacturing, sales and distribution of Electronic Components. ZETTLER GROUP companies provide component solutions across a broad spectrum of applications and industries, and operate in Asia, North America and Europe.
The group's diversified product lines include Relays, Transformers, LCD/TFT Displays, HVAC Controls and New Energy solutions.
ZETTLER's customers include many global top brands in the industrial and consumer product markets.