Press Release
For Immediate Release
9/9/2010
American Zettler Receives Highest Industry Ratings for Its AZ21001 and AZ21501
Power Relays


Dave West
VP of Sales
American Zettler, Inc.
75 Columbia
Aliso Viejo, CA 92656
Tel:(949) 831-5000
Fax:(949) 831-8642
Web Site: http://www.azettler.com
E-Mail: sales@azettler.com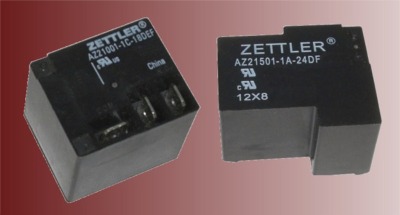 Aliso Viejo, California - September 9, 2010 â€" American Zettler, Inc. announced today that their AZ21001 and AZ21501 power relays (normally open version) have received new UL long life ratings â€" the highest in the industry for this relay type. The new ratings for the 40A power relays are 20A at 240 VAC resistive load for 250k cycles and 25A at 277 VAC resistive load for 100k cycles. The two relays are also CUR approved with TUV approval pending and have a UL rating of 2 HP/SPST and 1.5HP/SPDT at 250 VAC.
"American Zettler understands that price and performance are our customers' top two concerns," said Dave West, vice president, Sales, American Zettler, Inc. "With this in mind, we took our already competitively priced relays and obtained these new ratings, making them even more valuable to our customers."
The AZ21001 relay comes standard with a PCB mount with quick connect terminals. The AZ21501 relay is PCB mount.
Pricing for the AZ21501 series relays starts at $1.22 at 1,000 pieces.
Product applications for the AZ21001 and AZ21501 relays include heaters, lamps, motors and alarms. Additional features available upon request include class F insulation, an epoxy seal and AC and DC coils.
Samples are available by contacting American Zettler at sales@azettler.com.
Production time for orders is eight weeks. To learn more, please visit www.azettler.com.
Product Info: AZ21001, AZ21501

About American Zettler, Inc.
Headquartered in Aliso Viejo, Calif., American Zettler, Inc. produces over forty different types of relays to meet the many requirements of commercial and industrial applications. Because of their high reliability, American Zettler relays are used in a wide range of demanding applications including telecommunications systems, computer peripheral and office automation equipment, home appliances, security systems, test and measurement devices, industrial controls and many other types of electric and electronic equipment. Additionally, American Zettler works closely with a computerized distribution network with stocking facilities in virtually every major industrial area in the world. For more information please visit www.azettler.com .

PRODUCT PROFILE
Product
AZ21001 / AZ21501 Family
Product Description
Compressor / Motor Start Relay
Features/Benefits
40 Amp Switching
High Dielectric (2.5 kV) Coil to Contact
Withstands High Inrush Currents Up to 96A
UL/CUR/TAV Approved
Product Applications
HVAC, Heaters, Lamps, Motors, Alarms
Product Availability
Samples Available Now
Productions 8 weeks
Product Cross Reference

Panasonic (Aromat-Nais): JT

Hasco: HAT

Omron: G8P

Song Chuan: 832

Tyco (P&B): T90-T91, T9A