Press Release
For Immediate Release
6/16/2010
American Zettler Enters the U.S. Solar Energy Relay Market


Dave West
VP of Sales
American Zettler, Inc.
75 Columbia
Aliso Viejo, CA 92656
Tel:(949) 831-5000
Fax:(949) 831-8642
Web Site: http://www.azettler.com
E-Mail: sales@azettler.com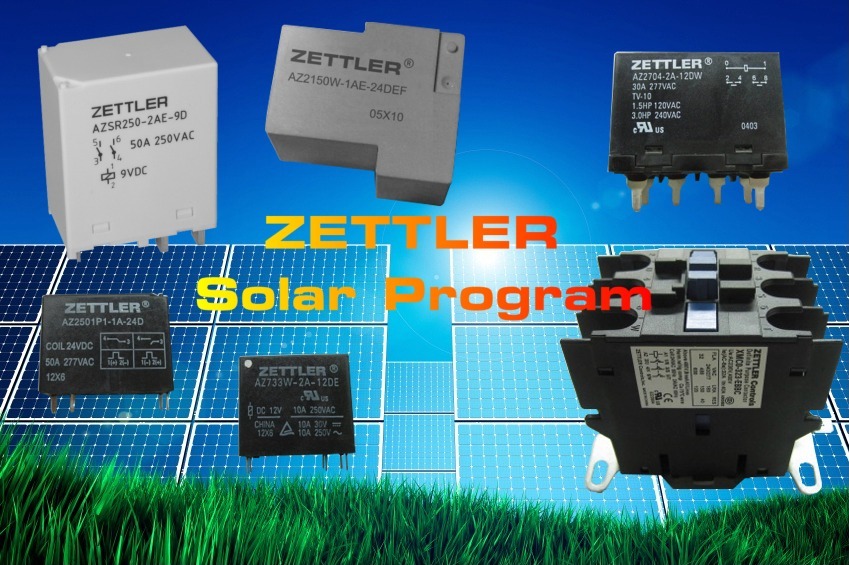 Aliso Viejo, California, June 16, 2010 â€" After becoming the number one supplier in sales volume in the European solar energy industry, the largest solar market in the world, American Zettler, Inc. is launching a line of relays specifically designed for the U.S. market. Each of the relays in the new solar line is designed to meet UL and VDE standards.
"American Zettler has seven relays designed for use in photovoltaic solar energy systems, each of them meeting or exceeding industry standards," said Dave West, vice president of Sales, American Zettler, Inc. "Our solar relays offer customers a wide selection of options featuring a large amperage range and the widest contact gaps on the market of 1.5 mm up to 6 mm."
The relays are designed to be used in high power sources such as power amplifiers, solar inverters, wind inverters and any application requiring high loads to be switched and carried. Below are the feature highlights for each of the new solar energy market relays.
"American Zettler is excited to be entering into the U.S. solar energy market," said West. "We look forward to bringing our U.S. customers the same innovative technology that is being used by solar inverter and charge control manufacturers around the world".
Samples, datasheets and pricing are available upon request.

About American Zettler, Inc.
Headquartered in Aliso Viejo, Calif., American Zettler, Inc. produces over forty different types of relays to meet the many requirements of commercial and industrial applications. Because of their high reliability, American Zettler relays are used in a wide range of demanding applications including telecommunications systems, computer peripheral and office automation equipment, home appliances, security systems, test and measurement devices, industrial controls and many other types of electric and electronic equipment. Additionally, American Zettler works closely with a computerized distribution network with stocking facilities in virtually every major industrial area in the world. For more information please visit www.azettler.com .