November 2019
Electromobility is progressing steadily and the plans of many car manufacturers to ultimately exit internal combustion engine technology are becoming ever more concrete.
As with almost all emerging technologies, application-specific standards for EV charging have continuously evolved over the years as safety concerns and impacts to the electric utility grid were considered. For early pioneers of electrical vehicle supply equipment (EVSE) or charging stations, this meant constant re-engineering of existing systems to meet regional standards and uncertainty around future certification requirements.
For the charging of electric vehicles using household or CEE sockets, the IEC62752 standard offers system designers a welcome sense of clarity on what future regulations are likely to require. Charge mode 2 (Level 2 charging / IC-CPD) addresses necessary control and safety requirements for charging cables along with considerations for the type of currents and service life these products will endure.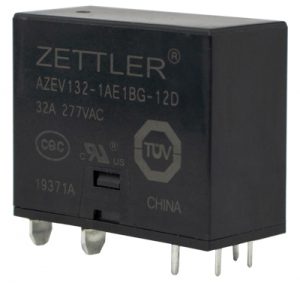 Fortunately for hardware designers of EVSE systems, ZETTLER's new relay series AZEV116 and AZEV132 were developed specifically for use in accordance with IEC62752 and, more importantly, to meet the exceedingly stringent short-circuit withstand-current requirements of this standard. These relays also have an isolated signal monitoring contact to allow detection of any possible welding issues with the main contacts.
Highlights:
Designed for charging systems of charge mode 2 (IEC62752).
Normally open (1 Form A) with wide contact gap ≥ 2.25 mm.
Dielectric strength (coil/power contact) 4,000 Vrms.
Galvanic isolated signal monitoring contact (1 Form B).
UL, CUR and TUV approvals.
Electrical lifetime: 50,000 switching cycles 16 A, 277 VAC @ 85C
Short-circuit withstand: ≥ 1.02 kA; ≥ 2.5 kA²s
Electrical lifetime: 50,000 switching cycles 32 A, 277 VAC @ 85C
Short-circuit withstand: ≥ 1.5 kA; ≥ 6.0 kA²s
Please Contact Us for samples and data sheets of these new ZETTLER EV charging relays or similar solutions or to discuss the wide variety of application opportunities for the range of ZETTLER Relays.