Press Release
For Immediate Release
1/9/2014
American Zettler releases its newest appliance relay â€" AZ7709


American Zettler, Inc.
75 Columbia
Aliso Viejo, CA 92656
Tel:(949) 831-5000
Fax:(949) 831-8642
Web Site: http://www.azettler.com
E-Mail: sales@azettler.com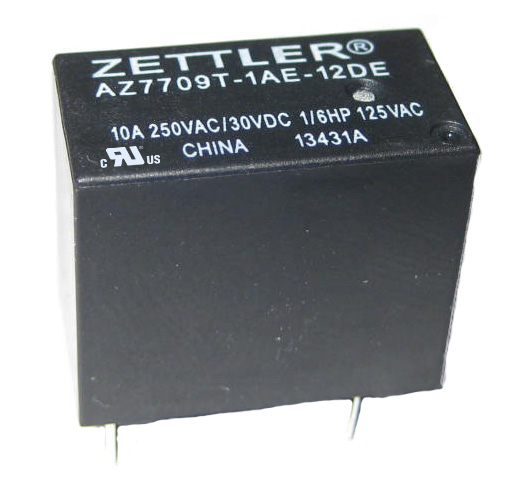 Aliso Viejo, CA - January 9th, 2014 -American Zettler released its newest relay focused at the appliance industry today, the AZ7709.
"As a player in the global appliance market, American Zettler must stay on the cutting edge of product development" says Todd La Londe, President of American Zettler."The AZ7709 is the latest in a line of existing relays redesigned to meet more stringent market requirements and to take advantage of the newest fully-automated manufacturing processes."
The appliance industry requires high reliability at a low cost. That is why with contact ratings from 3A to 10A, and with multiple coil sensitivities, the AZ7709 is well-suited to meet the requirements of the most demanding applications. UL load ratings are recognized at 850C and 100K cycles. Gold plated contacts are available for low load, high reliability conditions.
Contact an American Zettler representative for samples. Once you test them, we think you will agree that "It's a better relay!"
Full specs are available online: AZ7709 - 10 AMP SUB-MINI POWER RELAY
For more information, contact your local American Zettler representative or contact us directly at sales@azettler.com.

About American Zettler, Inc.
Headquartered in Aliso Viejo, Calif., American Zettler, Inc. produces over fifty different types of relays to meet the many requirements of commercial and industrial applications. Because of their high reliability, American Zettler relays are used in a wide range of demanding applications including telecommunications systems, computer peripheral and office automation equipment, home appliances, security systems, test and measurement devices, industrial controls and many other types of electric and electronic equipment. Additionally, American Zettler works closely with a computerized distribution network with stocking facilities in virtually every major industrial area in the world.