Press Release
For Immediate Release
3/16/2010
American Zettler Introduces 40 Amp 280-ISO Automotive Miniature Relays
The AZ9841 Series Relays for Automotive Use, Contain More Power in a Smaller Package

Dave West
VP of Sales
American Zettler, Inc.
75 Columbia
Aliso Viejo, CA 92656
Tel:(949) 831-5000
Fax:(949) 831-8642
Web Site: http://www.azettler.com
E-Mail: sales@azettler.com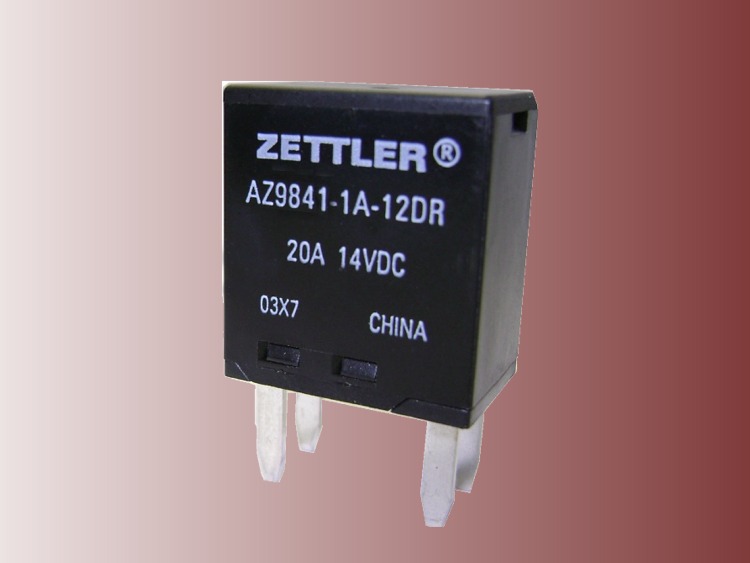 Aliso Viejo, California, January 6, 2010 â€" To continue its commitment to advancing relay technology and innovative design, American Zettler, Inc. introduces the AZ9841 Series 40 Amp miniature power relay for automotive use.
Built in American Zettler's ISO TS16949 factory, the new AZ9841 series are offered with SPST (1 form A), SPDT (1 form C) and a 35 A continuous N.O. rating at 35° C. "We saw a need in the automotive marketplace for a compact, high-powered relay that can handle the demands of cars today," said Dave West, VP of Sales, American Zettler, Inc. "This new relay fits the bill, giving customers the highest switching capability in the 280 ISO package."
Applications include headlights, magnetic clutches, radiator fans, blowers, fog lamps, tail lights, heaters, defoggers and horns. Relays are available with 6, 12 or 24 volt DC coils with optional shunt resistors and silver tin oxide contacts. The small and hardy relays can survive an ambient operating temperature as high as 125° C.
Pricing for the AZ9841, 12V, 40 A version starts at $1.24 per 1,000 pieces.

Product Info: AZ9841 series

About American Zettler, Inc.
Headquartered in Aliso Viejo, Calif., American Zettler, Inc. produces over forty different types of relays to meet the many requirements of commercial and industrial applications. Because of their high reliability, American Zettler relays are used in a wide range of demanding applications including telecommunications systems, computer peripheral and office automation equipment, home appliances, security systems, test and measurement devices, industrial controls and many other types of electric and electronic equipment. Additionally, American Zettler works closely with a computerized distribution network with stocking facilities in virtually every major industrial area in the world. For more information please visit www.azettler.com .
PRODUCT PROFILE
Product
AZ9841 Series
Product Description
Miniature Automotive PCB Relay
Features/Benefits
40 Amp Switching
High operating temperature (125°C)
ISO/TS 16949
6, 12 or 24 VDC coil available
Product Applications
Blower motors, cooling fans, defoggers, fuel pumps, lifts, lighting, and more
Product Availability
Sample quantity available upon request
Product Cross Reference
Tyco: VJ28
Omron: G8V-RH
Panasonic: ACV