Press Release
For Immediate Release
10/20/2010
American Zettler's AZ22801 Panel Mount Relay Holds Highest Ratings


Dave West
VP of Sales
American Zettler, Inc.
75 Columbia
Aliso Viejo, CA 92656
Tel:(949) 831-5000
Fax:(949) 831-8642
Web Site: http://www.azettler.com
E-Mail: sales@azettler.com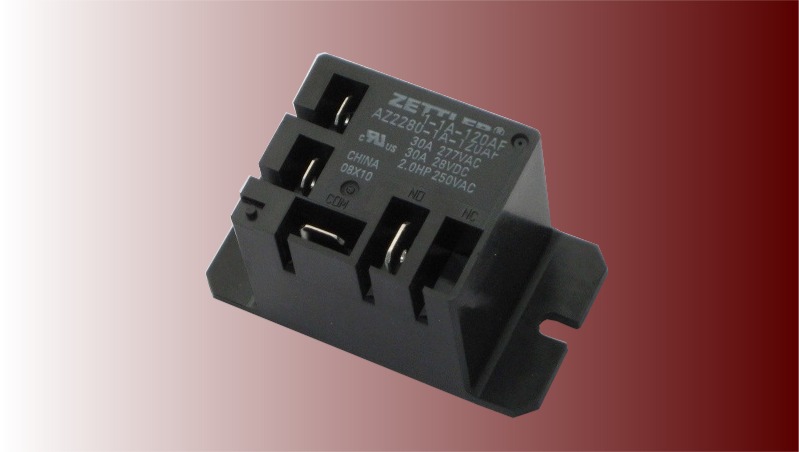 Aliso Viejo, California - September 9, 2010 - American Zettler, Inc.'s AZ22801 series panel mount relays offer the highest UL and CUR ratings available (for this relay class) at a very competitive price. The higher load ratings and longer life give our customers the ability to build end products that last much longer than their competition.
"The AZ22801 panel mount relays offers our customers the highest load ratings available and up to 250k cycles on standard load ratings vs. the typical industry standard of only 100k," said Dave West, vice president, Sales, American Zettler, Inc.
Specifically, the AZ22801 relay has the following UL ratings:
40A at 240VAC resistive load on the normally open (NO) contacts

30A at 277VAC general purpose load for normally open (NO) contacts

20A at 240VAC resistive load at 250k cycles

25A at 277VAC resistive load at 100k cycles
Built in American Zettler's state-of-the-art facility, the AZ22801 series relays are available with Form A, B and C, AC or DC coils. The customer also has a choice of unsealed or sealed versions, which can be paired with a standard Class B insulation or optional Class F insulation. Pricing for the AZ22801 series relays starts at $1.34 each for 1,000 pieces and samples are available upon request.
Applications include home and industrial appliances, ovens, heating and ventilation systems, pool and spa controls, lamps, motors and alarms. To learn more, please visit www.azettler.com .
Product Info: AZ22801

About American Zettler, Inc.
Headquartered in Aliso Viejo, Calif., American Zettler, Inc. produces over forty different types of relays to meet the many requirements of commercial and industrial applications. Because of their high reliability, American Zettler relays are used in a wide range of demanding applications including telecommunications systems, computer peripheral and office automation equipment, home appliances, security systems, test and measurement devices, industrial controls and many other types of electric and electronic equipment. Additionally, American Zettler works closely with a computerized distribution network with stocking facilities in virtually every major industrial area in the world. For more information please visit www.azettler.com .

PRODUCT PROFILE
Product
AZ22801 relay series
Product Description
Relay Description Miniature Power Relay
Features/Benefits
30 Amp contact rating
Panel Mount
1 Form A, B or C contacts
AC and DC coils available
Product Applications
Relay Applications Home and industrial appliances, ovens, heating and ventilation systems, pool and
spa controls, lamps, motors and alarms
Product Availability
Sample quantity available upon request
Product Cross Reference

Hasco: HAT903
Song Chuan: 832A W
Tyco: T9AP

Contact Form